If you need to calculate your "SAP client Size" then you can easily use SCCL (SAP Client Copy Local) transaction or SAP program RSSPACECHECK for this issue..
METHOD – 1 SCCL
Go to transaction SCCL on target client and choose the "Source Client" with "Test Run" option
* Source Client is , which is you want to calculate
Continue with "Schedule as Background Job" or "Start Immediately" options.
If your source client size is big then my suggestion is choose the "Schedule as Background Job" option.
Click the "Continue" button
Continue with "Resource Check" button
When action is completed then you can see the following screen and this screen shows the size of your client…
 METHOD – 2 RSSPACECHECK
Go to transaction code SE38 and execute the program RSSPACECHECK
Choose the "Client Number" which you want to determine and insert "*"  sign for the "Table Name" area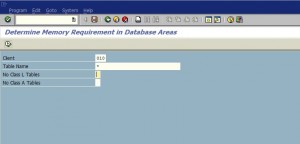 F8 – Execute
After some time depends on your client size , you will get the result like shown below.