After the BW version 7.3 SP5 we can run SAP BW on SAP HANA platform , before migrate our SAP BW to new HANA platform , SAP recommendation is using the following new ABAP sizing report to calculate new machine specifications.

Before using this report , our system's ST-PI version has to 2008_1_7XX SP06 or higher.
Our SAP system's ST-PI version is like below ;
We can start with executing the related report via transaction se38
/SDF/HANA_BW_SIZING
We can fill the below areas regarding to our system and future plans.
Following two picture will help you to commentate the report output
HANA Memory sizing ;
HANA Disk Sizing ;
Our SAP BW system's report output is shown below ;
For physical memory , recommendation is 256 GB according to our selections before execute the report.
In below picture , we can see that "Needed Store Sizes" shown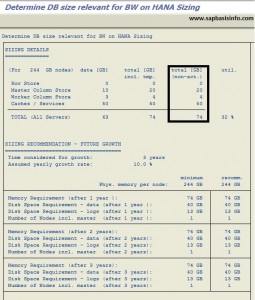 System Memory ;
Node with 256 GB.
Available Memory : 244 GB (256 GB – 12 Gb = 244 GB. , you can check above "How to size HANA system" picture)
Needed memory for services / caches : 50 GB.
Free memory for data : 244 GB - 50 GB = 194 GB
Memory for data : 194 GB
System Data ;
Row Store : 0 GB
Master Column Store : 20 GB
Worker Column Store : 4 GB
Memory Services : 50 GB
Total Data : 74 GB
Result ;
 74 GB < 194 GB   OK
You can find the details in the following OSS Note ;
SAP Note 1736976 – Sizing Report for BW on HANA