If you are getting an error message like "maximum number of connected terminals reached" while trying to logon your SAP system then you should check the related profile parameter like described in this article.

Screenshot of the error should be look like below picture ;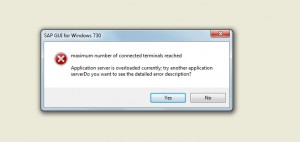 Then you should increase the parameter "rdisp/tm_max_no".When this number is reached , no further logons are possible.Don't forget that this parameter is not a dynamic parameter, therefore you have to restart your SAP system to activate it.
You can find the further informations in the following SAP note and help pages.
https://help.sap.com/saphelp_nw70/helpdata/en/af/d8e6714c04264a81951c7cedf4cf4c/content.htm
https://launchpad.support.sap.com/#/notes/22099