If you encounter corruptions in row store tables consistency check reports like "pointing to free variable part found;rowid=xxx;
offset=8;typeid=37;ext_rowid=xxx" then you should check the following OSS note and the steps which we completed.

Due to a programming error in disk write optimizations in HANA SPS12, entries in row store tables can become inconsistent, resulting in duplicates or data loss, when below prerequisites are met.
Prerequisites:
SAP HANA database Revision 120 – 122.03
Continuous page flush is enabled (global.ini section [persistence] parameter continuous_flush_interval_s > 0).
In SAP HANA database SPS12 continuous page flush is enabled by default, even if the parameter is not explicitly set
Slow disk IO will increase the likelyhood to run into this problem
Solution :
Step 1 - Disable continuous page flush using SQL command
ALTER SYSTEM ALTER CONFIGURATION ('global.ini', 'system') SET ('persistence', 'continuous_flush_interval_s') = '0′ WITH RECONFIGURE;
Step 2 - Force all rowstore pages to be written to the persistence, to do this ; execute the following commands as <SID>adm user.Please run these commands for each "indexserver" on all nodes.
hdbcons -p <process_id> "pageaccess touch row"
hdbcons -p <process_id> "savepoint execute"
For our case ;
hdbcons -p 6290 "pageaccess touch row"
hdbcons -p 6290 "savepoint execute"
hdbcons -p 5925 "pageaccess touch row"
hdbcons -p 5925 "savepoint execute"
Step 3 - To check the consistency of all rowstore tables please execute the following procedures
CALL CHECK_TABLE_CONSISTENCY('CHECK_ROW_TABLES', NULL, NULL);
CALL CHECK_CATALOG('CHECK', NULL, NULL, NULL);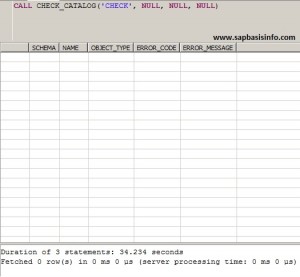 You can find the details in the following OSS note ;
https://launchpad.support.sap.com/#/notes/2370160