If you are getting an error like "Cannot perform the selected import" while loading "CIM Model" or "CIM Data" on SAP NW SLD (System Landscape Directory) because of the version situation, then you need to update related model version and the content of your system…

Error situation should be like ;
First step is checking the current version from the below address ;
SLD –> Administration –> Details –> Data 
In our system ;
Model Version : 1.6.43
SAP_CR Version :  11.0 
SAP recommends that we always use the latest version of SAP CR Content, therefore our aim is upgrade our Model and the SAP_CR versions to the latest version,
For this, following OSS note is needed ;
669669 – Update of SAP System Component Repository in SLD
According to this note, we have to follow below sequence to reach latest version easily, by the way during to operation no downtime needed.
SAP Content download location is ;
https://support.sap.com/en/my-support/software-downloads.html –> "Support Packages & Patches" –> letter C 
–> SAP CR CONTENT
Firstly, we need to download current version of the "CIM Model" , to do this we need to go "SAP CR CONTENT xxxx" (highest available year) with the file name "cimsap….zip".
Important point is; always we have to  import the CIM model "cimsap….zip" before "CRDelta….zip".
In our case, we have to download "cimsap141604_0-80003581.zip" 
Then we need to check SNOTE 669669 to find needed CRDELTA files, In our case we want to update our SAP_CR 11.0 to latest version (SAP_CR 14_x)
After all files are downloaded, we can continue with "Import" process.
SLD –> Administration –> Import
As we said before, we need to start with CIM file "cimsap141604_0-80003581.zip"
Import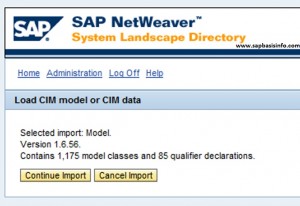 Continue Import
Log status shows that upgrade process was completed with success.
Checking the latest version status ;
SLD –> Administration –> Details –> Data 
"Model Version" upgrade completed, now we can continue with "SAP_CR" upgrades.
Sequence must be ;
2015 –> 2016 –> 2017 –> 2018
SLD –> Administration –> Import
 Import
 Continue Import
Status of the related CR file after the import process done ;
Final status of the "Model Version" and "SAP_CR" Upgrade
Model Version : 1.6.56
SAP_CR Version :  14.4