With the article you can easily use Putty and RSA public/private keys to login to a server without the use of a password.

First of all you need to download putty.exe and puttygen.exe from the below address ;
http://www.chiark.greenend.org.uk/~sgtatham/putty/latest.html
Now we will get 2 files ;
putty.exe –> SSH client program
puttygen.exe –> RSA and DSA key generation tool
We need to start with "puttygen.exe" to generate the RSA key, to do this, click the "Generate" buton and move the mouse icon inside the blank area of the window.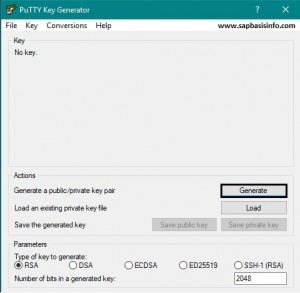 When progress bar completed, you will see the window update with your new public key.Key comment must be unique on your system.
Click the "Save public key" and pick a useful name, in this example i will use the "mypublickey" default name.We need to upload this file to server which we want to logon without any password.
Click the "Save private key", next pop up will ask you to "without a passphrase to protect it" , if ok for you then just click the "Yes" buton.
Now we have two files; "mypublickey" and "privatekey"
We can close the puttygen program.
Next step is moving the "mypublickey" to linux server via FTP client program, please copy in the related users home directory.
Now you need to logon Linux server via putty.exe with password and if not exist create ".ssh" directoy under user home directory.
#mkdir .ssh
Add the public key which we generated to file called 'authorized_keys'.
#ssh-keygen -i -f mypublickey >> .ssh/authorized_keys
Set the permissions to restrict other users accessing the with the following command;
#chmod go-rwx .ssh .ssh/authorixed_keys
Now we can delete the original public key from the server
#rm mypublickey
Lets logout from the server and close the putty.exe
To complate the task, open the putty and go to "Connection -> Data" area from the configuration window and insert the "username"
Go to "Connection -> SSH -> Auth" and press the "Browse" button and find the "Private key" which we created.
Go to "Session -> Screen" , insert the "Hostname", "Port (must be 22)" , and "SSH" as connection type.
Please don't forget to click "Save" button first !!!!
Then you can continue with "Open" button to connect the server without any password.
Just click the "Yes" button once and then you will be inside the system…